Scottish ninjas will be competing for a "2013 Geekie Award" in the web series category with Season 1 – "Welcome to America"
The Geekie Awards present the best indie-created, high production value, awe-inspiring geek-genre content, art, products and experiences in the world.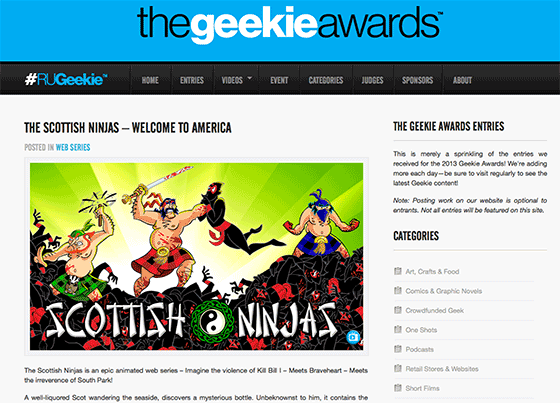 The geekie awards never found one show that covered all of the multifaceted talents, and often the world didn't take their work seriously because it was "geeky". So they created their own show to give indie "geekmakers" a place to shine and be seen by leaders and experts in their respective industries.
The Geekie Award's goal was to create an impact on mainstream media, putting the true geek culture in the spotlight as a collection of valid award-winning genres for storytelling and creation.
Be sure to take the time and head to http://www.thegeekieawards.com/category/geekie-work/ and check out all the amazing Geekie entries!